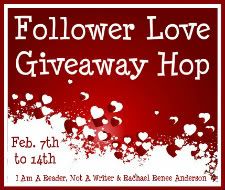 I am participating in another awesome giveaway hop. There are over 300 blogs participating. That's a lot of awesome giveaways (mostly books). To see the other participants, go to
This is a follower blog hop, so you must be a follower, via GFC or RSS.
Extra entries for following on FB or twitter. (Just say in the comment how many ways you follow.)
So what are you going to win? You are going to win one of my favorite romances. Your choices are:
Gone with the Wind - Mitchell
Rhett Butler's People - McCaig
The Notebook - Sparks
Jane Eyre - Bronte
Water for Elephants - Gruen
A Great and Terrible Beauty - Libba Bray
The Time Traveler's Wife
Til We Have Faces - CS Lewis
Beauty : A Retelling of Beauty and the Beast - McKinley
Pride and Prejudice - Austen
The Princess Bride - Goldman
Shiver - Maggie Steifvater
The Lover - Marguerite Duras
The Velveteen Rabbit
The Crowning Glory of Calla Lily Ponder - Wells
Leap of Faith: Memoirs of an Unexpected Life - Queen Noor
To enter, just leave a comment below with how you follow and what is the most romantic story that you've ever heard, whether in a book or real life.
Good luck!
Pin It